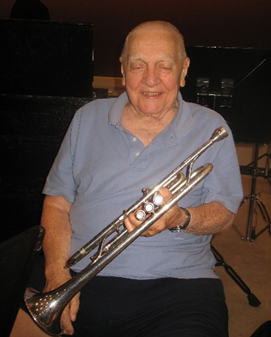 Article by Vince LaBarbera  
Howard Lininger, the elder statesman of the Community Band, was born in 1930 -- the beginning of the Great Depression -- in Wesleyville, PA near Erie. When he was just a youngster, his mother obtained a Conn cornet from a cousin and insisted Howard was going to learn to play it.  
  "My first teacher was the high school band director, a woodwind major," said Howard. "After listening to me and two other 11-year-olds trying to get a sound out of our instruments, he suggested we take private lessons." However, they were less than successful. He quit his second teacher because he didn't want to practice. After changing his mind and agreeing to resume practicing regularly, however, his instructor was killed in an auto accident. After one lesson, his third teacher died of a heart attack. Howard labels his fourth instructor as the best, but he chose church work over the music profession.  
   Howard has had opportunities to play in churches and youth camps in a trumpet trio, too. Beginning in 1949, he attended a bible college in St. Paul, MN where he received a diploma in theology.  He also attended Crown College in Minneapolis and earned a degree in sacred music education. In addition, he received a music education degree from the University of Minnesota. He then performed in Europe with Youth for Christ and subsequently graduated with a master's degree in music education from Indiana State University in 1976.  
   "When I returned to Minnesota from Europe, I met a young lady, Joan, a music major with a beautiful voice who was an excellent pianist and organist," said Howard. "She also became a wonderful wife and mother, and we lived together for more than 69 years." Joan died in May 2023.  
   Howard suffers from arthritis and needs assistance walking, but he doesn't let it stop him from enjoying life, especially his music.  
   "I've been playing trumpet for more than 80 years," said Howard. "And, as a school teaching musician, I was able to play all band instruments and some strings." In 1957, the Liningers moved to Fort Wayne where he became a minister of music and served as the radio producer for several weekly broadcasts. "My interests changed," he added, "and in 1963 I became the director of music programs for two merged schools in Huntington County for four years." He served as an associate band director in the New Haven school system and the junior high band director for Village Woods Junior High School. Howard also assisted with the New Haven High School and Junior High bands and at several elementary schools. In 1978, he became the New Haven High School Band Director until his retirement in 1986.  
   In addition to music, Howard has enjoyed fishing and golf. He also challenged himself to learn how to paint pictures, and over the years he's created several hundred works.  
   Howard joined the Community Band in 1985, and since there were some 19 trumpet players, he chose to play baritone initially on a borrowed school instrument. "I'm often asked how many of my former students have played in the Community Band over the years, and I would estimate nearly 40." Since joining the Community Band, Howard has never missed playing a concert, both summer and winter, for 38 years until he had to miss a recent June 2023 concert at Foellinger Theatre while recovering from surgery. He added, "This year's band musicianship will match or outperform any other music group in the city, and I am proud to be a member of it!"