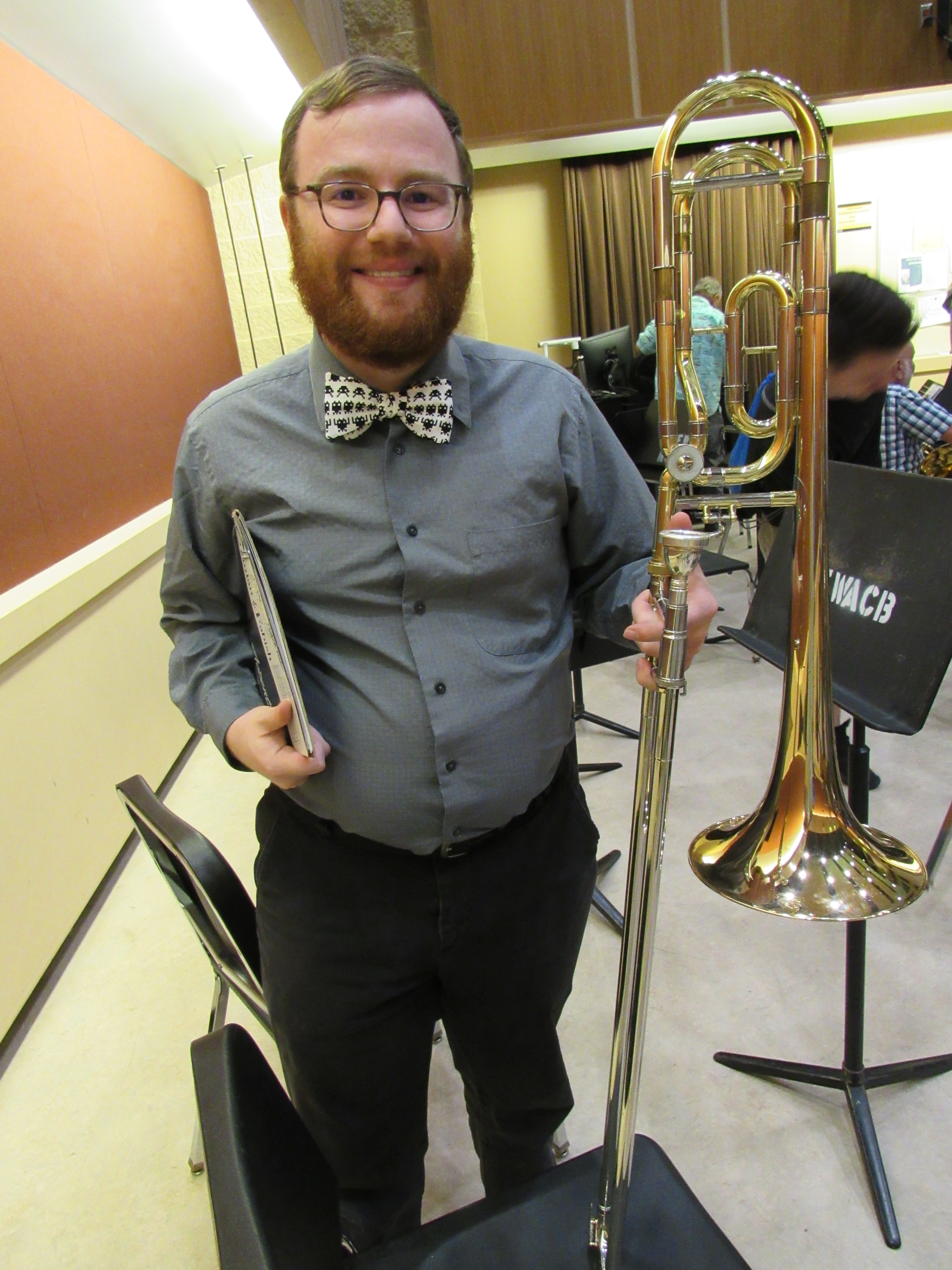 Article by Rod King
One can easily spot trombonist Isaac Embree at band rehearsals because he's the one wearing a bow tie. In fact, he's almost always the only one wearing a tie, period. It's his personal fashion statement.
When it looked like nobody was going to take over the band presidency after Sally Hinkle-Teegarden would step down this year, Isaac stepped up. He was already a board member at large and band webmaster for the past four years. Fellow trombonist Josh Barkey has been appointed by the board as the new supervisor of the website and Facebook page.
"I'll never forget how I ended up on the FWACB board of directors in the first place! Wayne McBride was directing the election and making a call for the nomination of at-large members. I had no intention of joining the board, but Gary Kantz spoke up and said 'I nominate Isaac Embree.' Wayne looked straight at me and asked if I would accept the nomination. All I could utter in my shock was 'Uhhh…' and before I could have a second thought, he said, 'Congrats, you're on the board!'"
"I'm really honored to now be president of this talented ensemble. We've got a really good team on the board and the band membership has a wonderful balance of experienced players and newcomers who are all bringing innovative ideas and musicality to the band."
The Green Bay, Wisconsin native says he hopes that the influx of new players will also help broaden our audience base. His goal is to see interaction and partnerships with other musical organizations in the community in order to inspire people to continue playing their musical instruments. "The idea, of course, would be for them to join the Community Band!" he added with a smile.
Like most of the band members, Isaac began learning to play trombone in the fifth grade. He attended Blackhawk Christian Middle School and went on to play in the Blackhawk Christian High School concert and jazz bands. "Blackhawk didn't have a marching band because the school was too small," he said, "but Trine University did, and I'm glad I it joined it! It was a fun experience and challenged me both musically and physically." Isaac earned a Bachelor's Degree in Informatics from Trine in 2014 that enabled him to become a database administrator at MedPro Group here in Fort Wayne.
"The Community Band has been such a great stress reliever for me with all of the fun music that we get to play. It has also helped me become a better musician by stretching my musical skills. I like the technical works that we get to play during the fall/winter/spring concert seasons.
"I love this band and am proud to be part of it as a member and as its president."