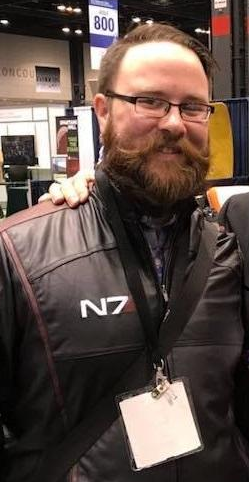 Article by Vince LaBarbera
Edited by Isaac Embree
       Another one of the Community Band's newest members is Jordan Black. He's originally from a small town in southwestern Indiana called Freelandville – about 75 miles from Evansville – but has been living in Fort Wayne for the about two years. Black attended North Knox High School near his hometown and earned a bachelor's degree in Instrumental Music Education from Indiana State University.
       He began playing a cornet in sixth grade, an instrument his family borrowed from an uncle. After two years, he switched to trumpet and has played the instrument ever since. Black received training on every instrument while in music school, "but you wouldn't want to hear me play much on anything other than brass and percussion instruments."
       Black has performed with many musical organizations. One of the most prominent ensembles was the Madison Scouts Drum and Bugle Corps, which achieved a 10th place finish at the DCI World Championship in 2010. He was also invited to perform with Star United, a mini-corps that was formed by alumni of the Star of Indiana Drum and Bugle Corps. "We did compete in the Mini-Corps Championships that are part of DCA, and we won a championship in 2018, and achieved a second place in 2019," he said.
       Currently, Black works at Sweetwater Sound in Fort Wayne as Associate Category Manager of Band and Orchestra Merchandising. "That's a very long title that boils down to working as part of a team that determines what band and orchestra products Sweetwater will carry and sell," he said. "My background being primarily a brass player helps to round out our team where the other three members are string, woodwind and percussion musicians. I get to see new products from manufacturers before the public does, and I get to play-test them as well. Sometimes it might be a new instrument stand, a new kind of mouthpiece or even new models of instruments," he added.
       As to how he happened to join the Community Band, he said, "I've played with other community bands in college and since graduating. But when my schedule became less hectic last fall, I knew I wanted to get back to playing and simply went to Google to see if there was a community band in Fort Wayne. I enjoy being in the band because it's nice to get to make music with other people while not having to be on the podium," he continued. "I was a band director for nearly 10 years before taking the position at Sweetwater. And while I do hope to get back on the podium someday, it's great to just simply get to play for now."