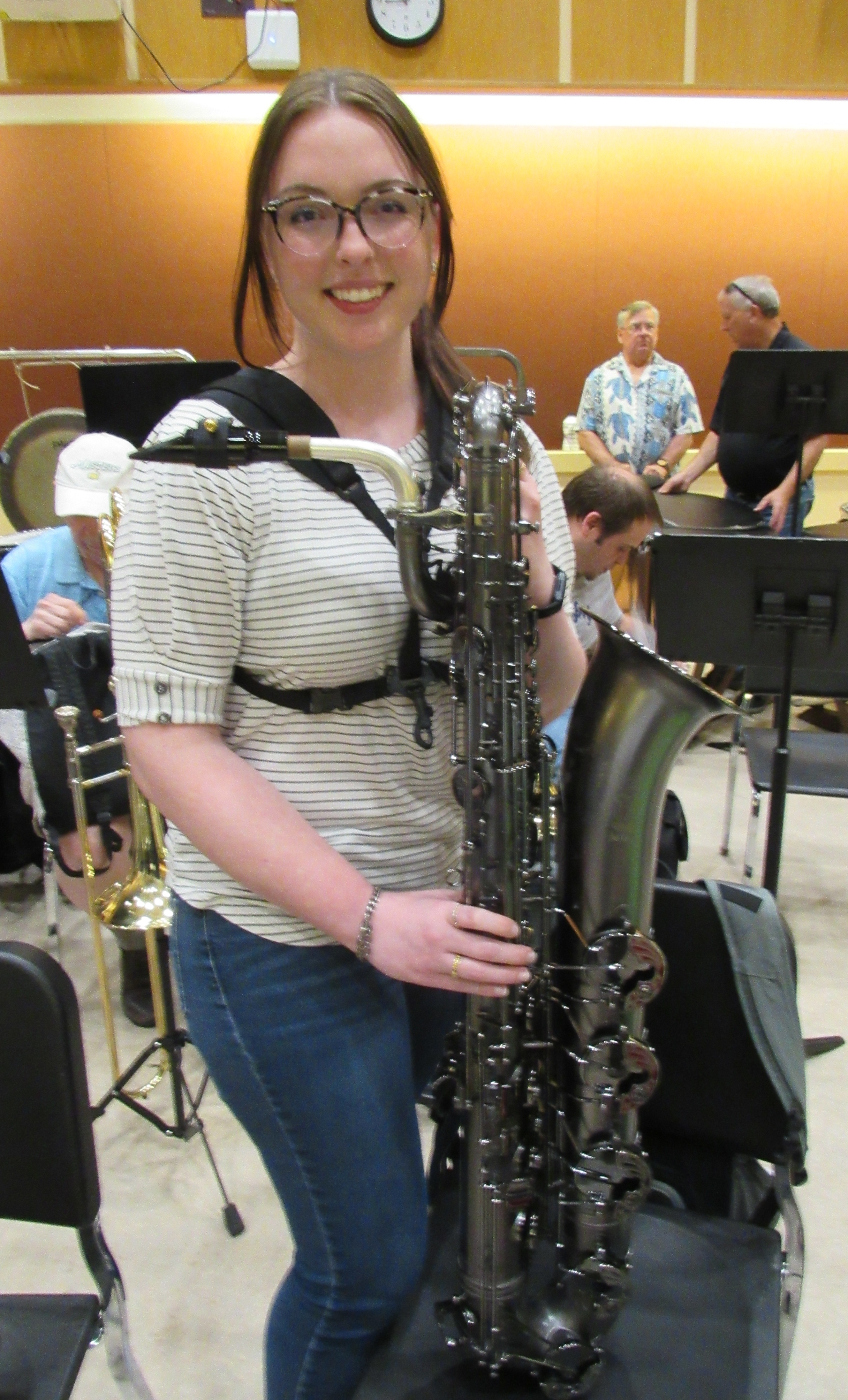 Article by Rod King
Edited by Isaac Embree
       Victoria Ricedorf literally stands in a class by herself among the ranks of the Community Band. She's the only person who plays baritone (bari) saxophone!
       She purchased her beautiful silver-gray Cannonball bari in high school with the help of her parents. The decision was not an easy one, because she was also searching for a car. The musician in her won, however, and she got the bari.
       The Pennsylvania native came to Fort Wayne after earning a Bachelor's Degree in Business Administration at Lycoming College in 2020 and a Master's Degree in Student Affairs at Slippery Rock University in 2022. She's employed at the University of St. Francis, where she is Assistant Director of Student Engagement and is involved in residence life and student activities.
       One of the first things she did when arriving in the Summit City was to do a Google search for community bands. "The first thing to pop up," she said, "was the Fort Wayne Area Community Band. Music has been a big part of my life, since my music-teacher mom taught me the basics on piano at an early age, and I wanted to be able to continue playing here, as well."
       In the fourth grade, Ricedorf took up clarinet. Alto saxophone was her main instrument in sixth grade, then it was tenor saxophone in high school. "When the jazz combo needed a bari player, I volunteered. I played in all the high school ensembles, competed in all the state and national music competitions, and even thought seriously about majoring in music in college. I decided against that, but did play in several college groups.
       "I've been in the Community Band a year, and I'm glad I found It. It has been great, and some of the works we've been playing are things I played in competitions and at college. It also offers a good break from work."