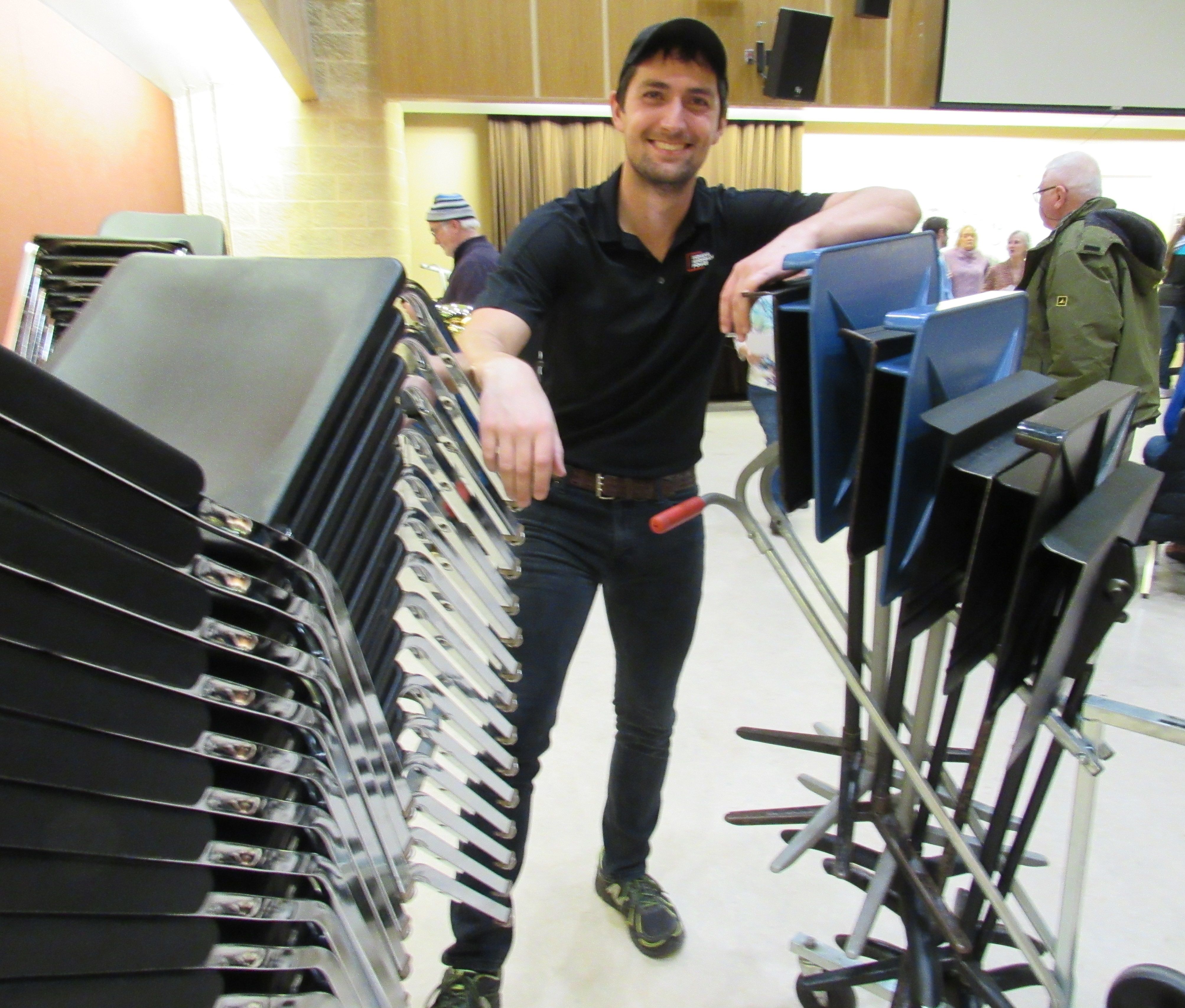 Article by Rod King
Edited by Isaac Embree
       For those who don't know, the person who makes sure the band room is set and ready for rehearsals every week is Kyle Baker. As equipment manager, he's not only in charge of getting the stands and chairs in place and returning them to the storage room, but ordering replacements for damaged stands, chairs and percussion equipment. Kyle also sees to it that FWACB band chairs and stands don't get mixed up with PFW's equipment.
       Kyle became equipment manager in 2018 after joining the band in 2016. He researched area ensembles and showed up with trombone in hand, only to find that the band was on its break after the Christmas concert!
       Kyle started his musical career playing piano, inspired by his mother. He quickly learned that "you can't march with a piano," and he wanted to be in the Westview Junior/Senior High School band. He started playing trombone in junior high. The Westview marching band had just 40 members at the time.
       When he joined the Purdue University Marching Band after graduating from Westview, he recalls Purdue's trombone section having more players than his entire high school band! He relished the experience and played in the 365-piece band throughout his time at West Lafayette while earning a degree in Electrical Engineering Technology.
       Kyle came to Fort Wayne in 2016 to work at Indiana Michigan Power as a Grid Modernization Engineer. His instrument was in storage at first, because he really didn't expect to be playing. "I'm glad I found the Community Band. It's a great opportunity to continue my music, express my musicality, and vent off some steam after a day's work. I especially enjoy socially interacting with other band members.
       "My desk job has me sitting too long and makes me antsy for activity. So, Tuesday evening, I get a good cardio work-out at band lugging and lifting chairs and stands." When not moving chairs and equipment, Kyle plays volleyball, runs, and rides his bike to keep in shape.
       On weekends, you'll find Kyle in his garage restoring/modifying a 1967 Mustang, which he hopes to have running by 2026 for the 100th anniversary of Route 66. To reflect his passion for his alma-mater, Kyle intends to paint it black and gold and drive it all the way from Chicago to L.A.