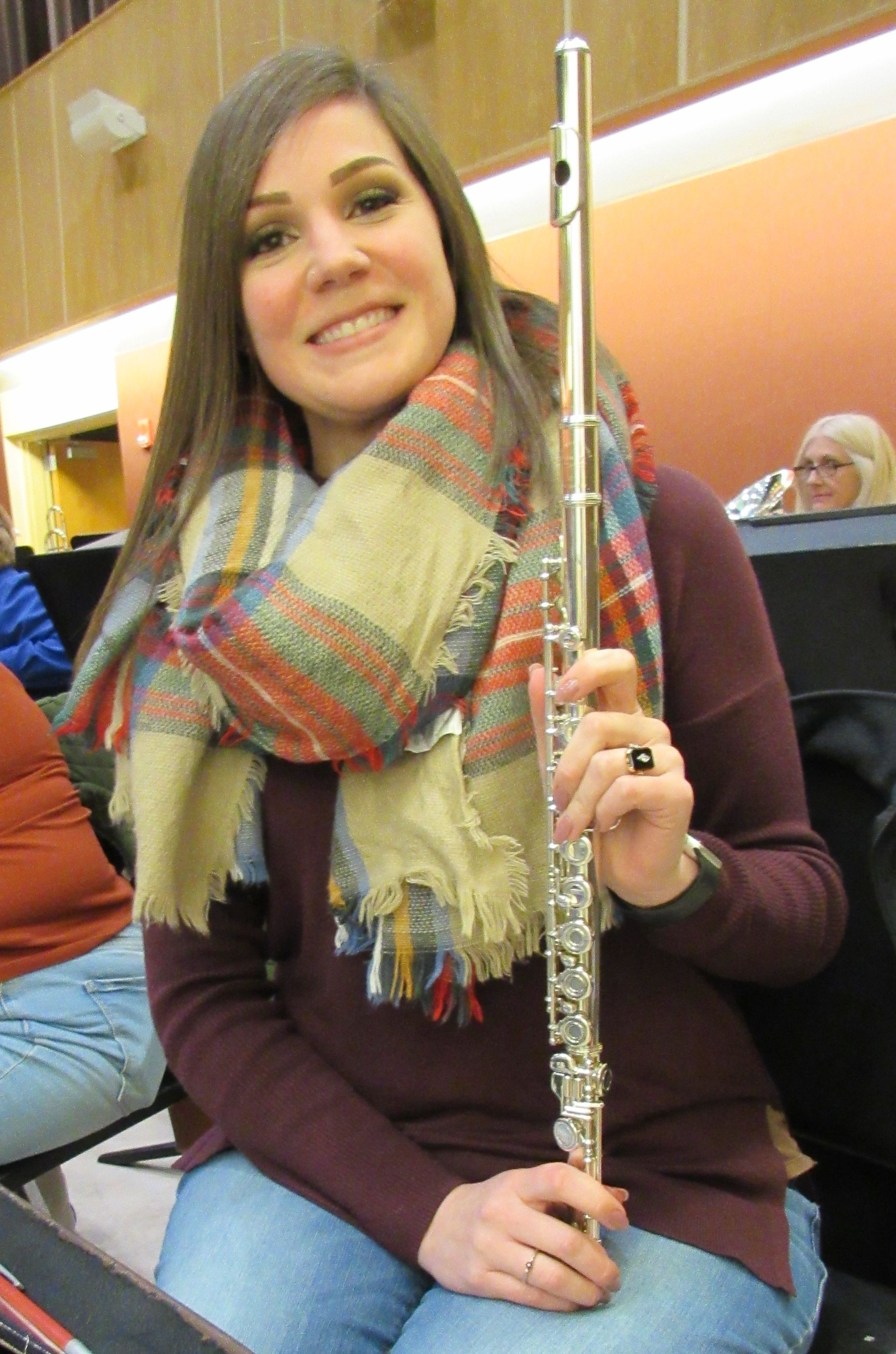 Article by Rod King
Edited by Isaac Embree
       Being on the board of the Community Band has given flutist Lynn Emrick a greater appreciation of the organization. "Before Sally asked if I'd be interested in running for an at-large position, I didn't realize just how much is involved in making an ensemble this size function smoothly."
       The Fort Wayne native, who was active in almost all of the Columbia City High School musical organizations, at one time had thoughts of being a music teacher. "I also thought I might become a lawyer, but I dropped that idea, too," she said. Instead, she graduated from Indiana University Purdue University at Fort Wayne (IPFW) with two separate degrees from IU prior to its split from being a dual campus. While at IPFW, she participated in the symphonic and pep bands.
       Lynn first heard the Community Band while attending her cousin's graduation from the University of Saint Francis at the Allen County War Memorial Coliseum. "After that, I talked with my closest family members about the possibility of joining the local band. I Googled it and FWACB came up. I was a little apprehensive about my abilities, because I hadn't played for about six years. Besides that, I have a carpal-tunnel problem in my left wrist that hampers me sometimes. In all honesty, I'm probably just a little lazy about playing."
       It's ironic that Lynn became so heavily involved in music and considered dedicating her life to teaching it, because she loathed her elementary music class at Harrison Hill Academy Elementary. However, she wanted to play the violin at that same age. When introduced to the recorder in the fourth grade in another school system, she really liked the idea of playing an instrument.
       It was fate when middle school music teacher (and now fellow FWACB member), Stan Roth, made rounds to the fifth grades in the WCCS school system. "I made sure my parents knew my interest in playing an instrument and remember going to the school office to ask to call my mom at work to remind her of an appointment with Mr. Roth at Indian Springs.
       "Switching school systems from FWCS to WCCS and learning to play the recorder opened a door for me that I didn't look back from. I practiced a lot and set extremely high expectations for myself. It broke my heart to step away from music my senior year for my mental health and well-being. Now my goal is to have fun and be challenged in a different way.
        "Tuesday's band night and that's the one night I can be selfish and do exactly what I want, in a way," she added.