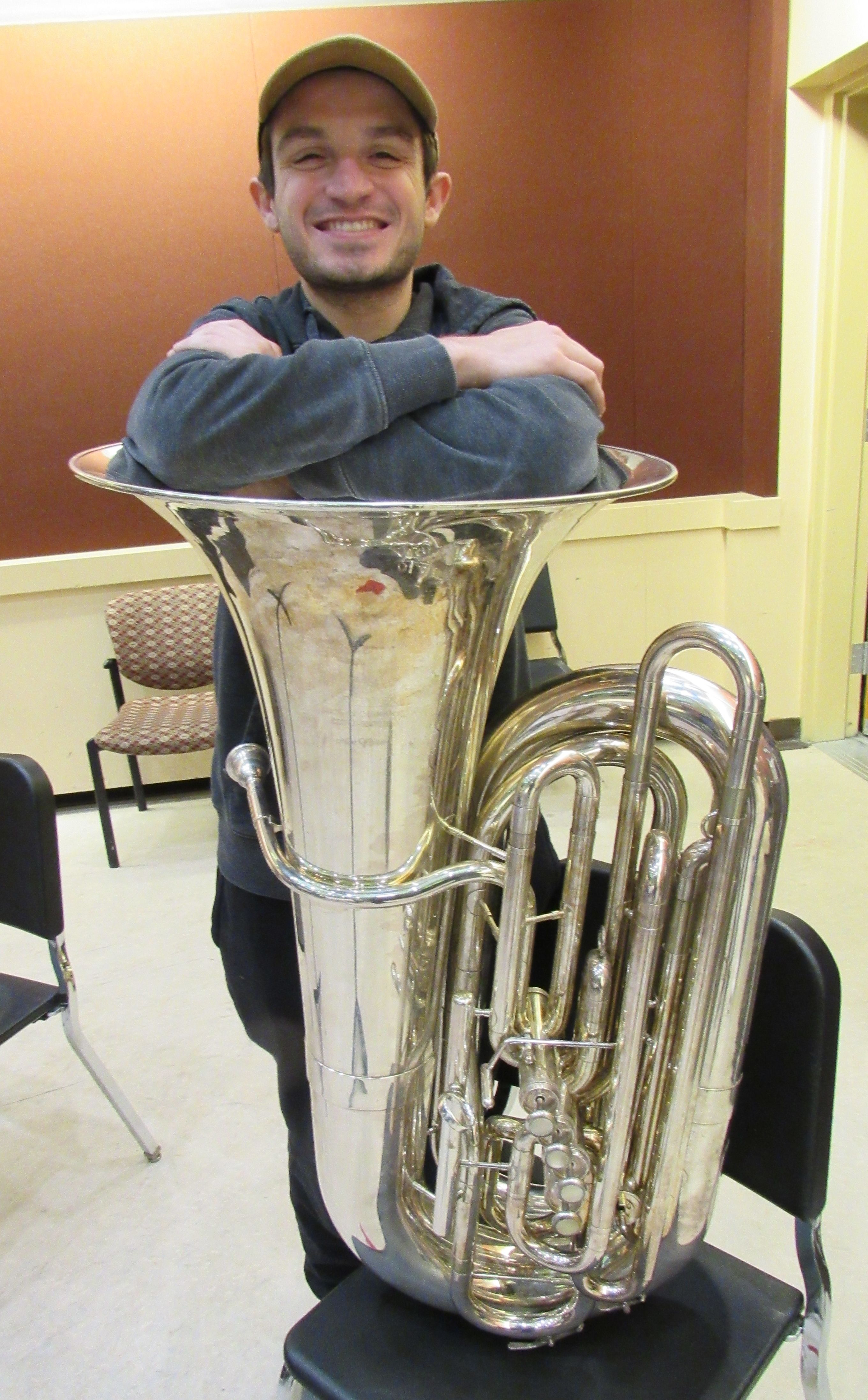 Article by Rod King
Edited by Isaac Embree
       Tuba player Spencer Mohre joined the Fort Wayne Area Community Band when it resumed rehearsals in the parking garage at Purdue Fort Wayne in 2021. The pandemic was beginning to slow, but the university was not allowing large gatherings in its buildings, especially one with 90 members blowing germs all over the place!
       "I remember that day," says Mohre. "It was May 21, and I was carrying my horn, a chair, and my music stand from my car to the band set up on the second floor of the parking garage. It was kind of weird, but fun at the same time. Ron Reese in the percussion section had suggested I come out. I've known his family for a long time and his son, Adam, and I grew up together.
       "I'm really glad I did. I don't know what life would be without music. I really love the band and making music for the community. One of the high points of my short time [so far] in the band was performing Basses on the Roof at the July 12 Sousa Concert at Foellinger Theater."
       Mohre started playing euphonium in sixth grade and switched to playing tuba in eighth grade. At DeKalb High School, he played in the marching and concert bands, as well as their jazz band (where he switched instruments again to bass trombone). He has also played in local honor bands, participated in state solo and ensemble competitions, and was a member of the Fort Wayne Youth Philharmonic Orchestra.
       While studying for a degree in public relations at Western Michigan University, he performed in the school's Symphonic Band, Campus Band, and a tuba quartet. After graduation, he moved to Fort Wayne to work at Credent Wealth Management.
       Now, he's a walking advertisement for the Community Band, encouraging others to dig out their instruments and make music. For those concerned about playing with a talented, long established group of musicians, he simply says, "It's a good chance to get your fingers and lip back in shape, and it's a lot of fun!"