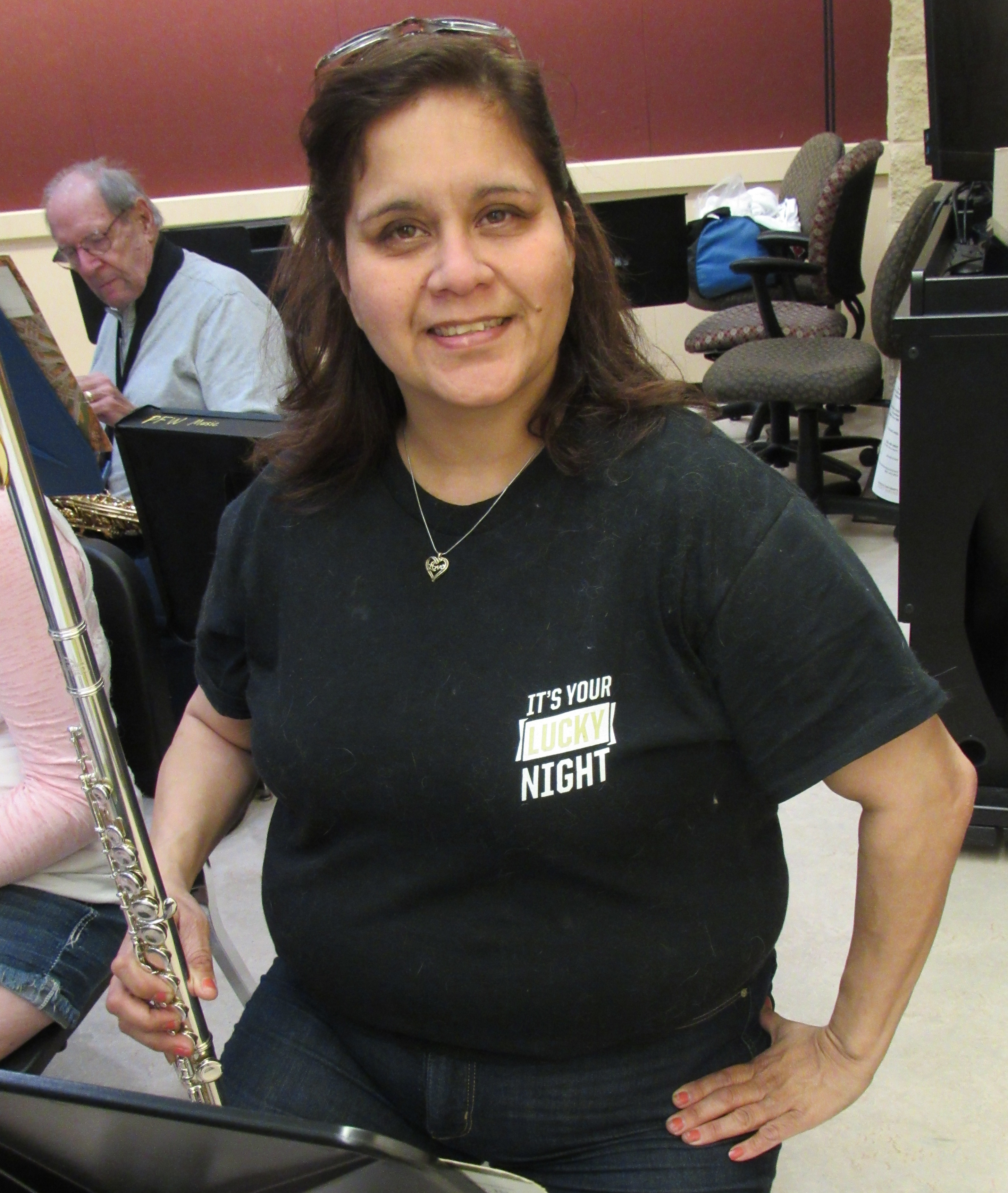 Article by Rod King
Edited by Isaac Embree
       Among the newest members of the Community Band is Texan flautist Dr. Elva Anne Resendez. She joined the band in 2021 and wants to let others know just how much fun it has been. "I even subbed in the percussion section on the bass drum for one number in a concert, got in touch with my percussion side, and made friends!" she said.
       Dr. Resendez and her husband, Dan House, came to Warsaw, Indiana from Commerce, Texas in the middle of the pandemic in August of 2020 to take a position at Purdue Fort Wayne as visiting assistant professor of management. Her research area is organizational behavior and how it applies to the business world.
       Though she hadn't played in a band since graduating from high school, she continued to keep her flute skills active by playing in church groups and for weddings and funerals. The first thing she did when arriving at PFW was to join the university choir to meet people and make friends. The director, Dr. William Sauerland, told her about FWACB. She Googled it, and the rest is history. 
       Not one to be idle, Dr. Resendez is an EMT with Tri County Health Care Emergency Services and is a psychtech at Bowen Center Inpatient Hospital in Pierceton, Indiana. Asked about her one-hour drive from Warsaw to come to band rehearsals, she said, "In Texas, that's nothing!" 
       Like most FWACB members, Dr. Resendez started playing flute in elementary school and participated in her high school marching, concert, and pep bands. She qualified for the Texas Class 1 solo and ensemble competition in her freshman through senior years. "I quit playing after graduation my senior year because of band politics." 
       She earned her Bachelor's Degree in Business Administration with honors, majoring in human resources management, English and Spanish and her MBA Degree specializing in International Business from Texas A&M University-Commerce. She earned her doctorate from the University of Texas at Tyler, Texas in human resources development and organizational development and change. Her 19-year-old daughter, Maria Celeste Resendez House, attends college at Texas Tech.