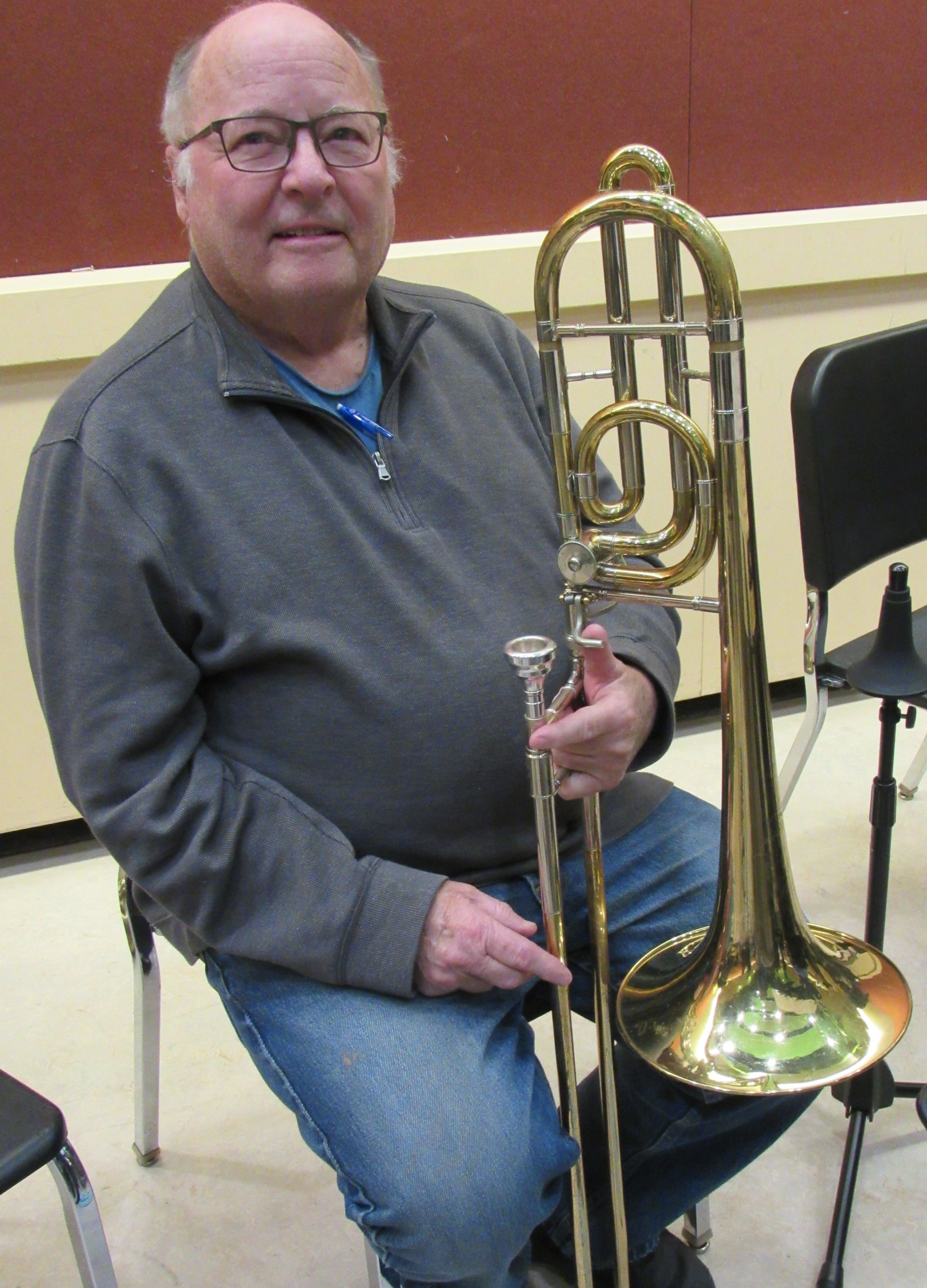 Article by Rod King
Edited by Isaac Embree
       Mike Blombach is a three-passion guy! Passion number one is his wife, Annie, their four daughters (Aimee, Molly, Katie, Sarah), two sons (Tim, Joe), and their combined 18 grandchildren. Then, there's playing his bass trombone in the Community Band. Finally, he enjoys flying his 1967 four-seat Comanche airplane he got when his children were students at Purdue University. 
       He recalls going to a week-long air show event in Oshkosh, Wisconsin and taking his horn with him to play in a band made up of show attendees. "Eighty of us showed. We had a couple practices and put on a concert. There were junior high school kids and senior citizens in their 90s. Great fun!" 
       He joined the Community Band in 2008. "At that time, I think there were just two other trombonists, Everett Hardy and Don Cox. Now there are 14 of us," said Blombach. "It's a great section, and I like all the guys. We're still a lot smaller than the flutes," he added. 
       Like most everyone in the Band, Blombach started his musical career in the fifth grade. At Bishop Luers High School, he participated in the concert band, marching band, and a jazz group. "Dick Brown was the band director back then, and I took private lessons from Dick Hickman who was a member of this ensemble for many years. 
       "I guess I really wasn't ready for college. So, after a year at University of Saint Francis, I went off to the U.S. Navy for four years, but did play in a couple of base bands during my service. When I got back, I became a student at IPFW where I got a degree in secondary education and taught physics and chemistry at New Haven High School for 30 years. I ended my teaching career a few years ago right here at PFW." 
       While Blombach was working and helping raise a family, his horn stood forlornly in the corner of a closet until two years before joining the Community Band. "Trombone has always been my only instrument," he says, "but my real musical claim to fame is that I played the piano at the Palmer House Hotel in Chicago and the Waldorf Astoria Hotel in New York City. In both instances, I had only plunked out a few notes when a security guard said, 'Sir, you can't play that piano.' My response was, 'I know, I've never had lessons.'"