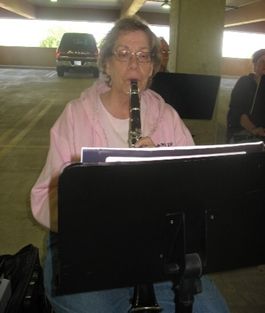 WARMING UP – Nancy Gossett warms up her clarinet prior to a weekly rehearsal of the Fort Wayne Area Community Band.
Article by Vince LaBarbera
       Volunteering gives a way to make a difference in the lives of others and in your own life. 
       Meet Nancy Gossett, a person who willingly dedicates her time to help improve lives in support of church and community. For 12 years Gossett has volunteered at the Lifehouse Forest Park Food Pantry, 2100 Kentucky Avenue, Fort Wayne. What began in a small room in 2005 with just a few volunteers has evolved into nine rooms and a workforce of 22 helpers serving upwards of 60 families weekly. 
       Gossett helps behind the scenes on Saturdays, filling sacks with food items from Community Harvest Food Bank and placing the donations in grocery carts that are wheeled by other volunteers for curbside pickup. The free food facility is open from 10 to 11 a.m. Tuesdays and Saturdays. 
        "I was taught to do for others," said Gossett who originally is from Richmond, IN. "That means helping others whenever I can," she related. It includes many opportunities at church from loading trucks for recycling, funeral dinners, church functions, festivals and other events. Gossett also makes blankets and has served in the workshop for Project Linus, a local non-profit organization, providing new handmade blankets to children in need. 
       There are many ways one can volunteer. Sometimes it begins as a hobby as is the case with Gossett. By fourth grade she developed an interest in playing the clarinet due mainly to the influence of a girl two years older who played the instrument well. With continued practice, others recognized she, too, was talented on the clarinet. Gossett joined the band and orchestra in both middle school and high school. 
       Gossett moved to Fort Wayne in 1974 and landed a job as well as a career with Parkview Health System where she remained one week short of 37 years. After retiring, she volunteered at Parkview wherever she was needed. 
       Five years after she moved to the Summit City, two friends who had played in high-school band with her insisted she attend a rehearsal at IPFW (Indiana University-Purdue University at Fort Wayne) the next Tuesday evening. That get-together of some 37 former high school and college musicians in November 1979, was the beginning of the Fort Wayne Area Community Band (FWACB) currently observing 42 years since its founding. Gossett is one of eight charter members of the musical organization. And, since the definition of a volunteer is a person who donates his/her time or efforts without being paid, Gossett can be considered a volunteer there as well giving freely of her time and talent for rehearsals and concerts for the enjoyment of the northeast Indiana community. 
       Gossett volunteers within the FWACB, too, assisting the Band's music librarian making copies for nearly 70 musicians and serves as the librarian for the clarinet section.