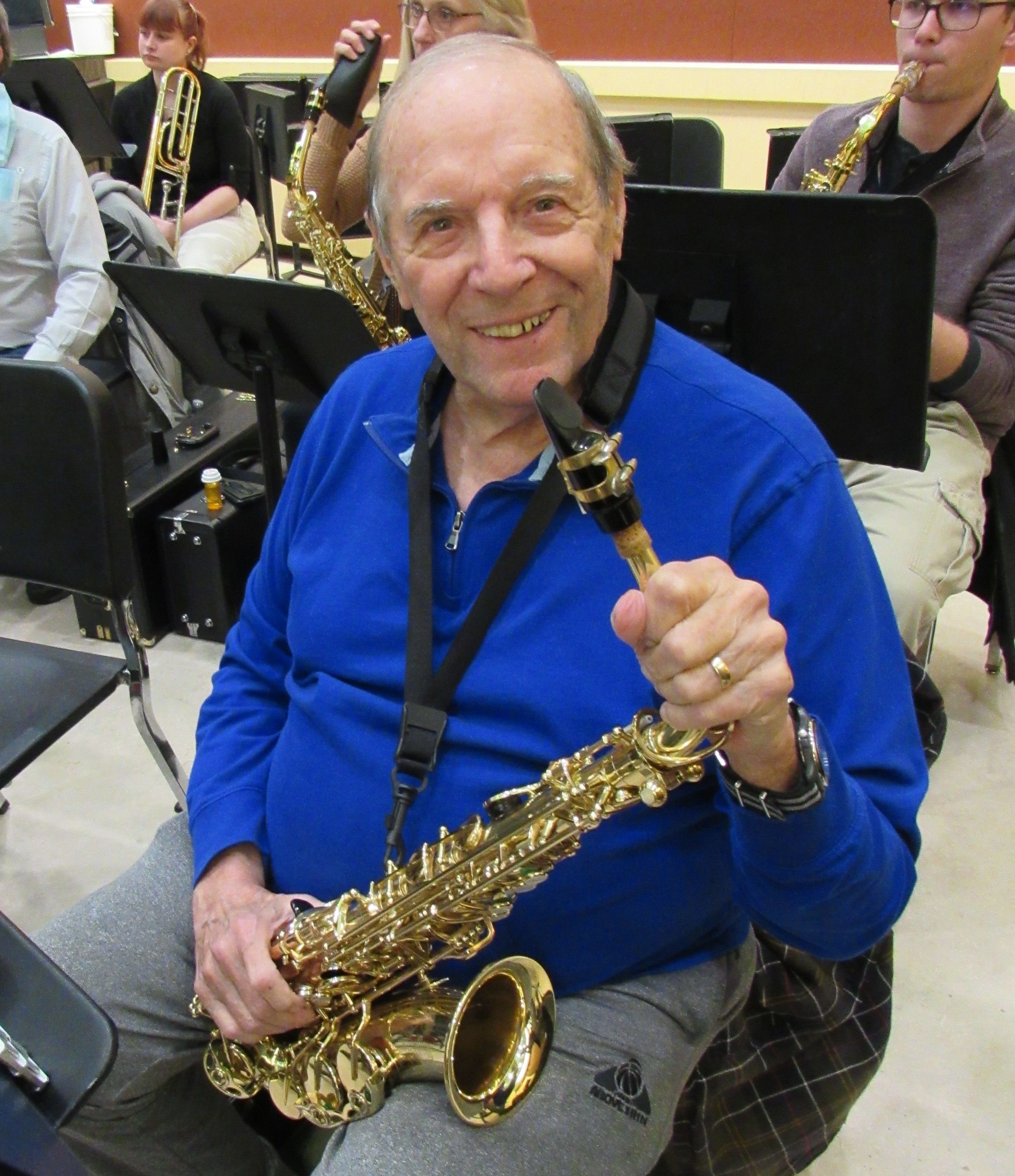 Article by Rod King
Edited by Isaac Embree
              Hank Lehrer, the newest member of the Fort Wayne Area Community Band's saxophone section, comes to the ensemble with a long and impressive musical pedigree. He was a high school band director for 18 years in Ohio, and is principle bass clarinetist in the Ann Arbor, Michigan, Concert Band. He performed in his college band and in bands while serving in the U.S. Army. 
              Like most members of our Community Band, Lehrer began playing an instrument (clarinet) at age 12 in his home town of Sandusky, Ohio. He switched to alto saxophone in eighth grade and then to tenor sax in high school. He earned a Bachelor's Degree in Music Education at Ohio University, where he was a member of the band and symphony. He followed that by getting a Master's Degree in Secondary School Administration at Kent State University and then a Ph.D in Higher Education Administration at Bowling Green State University. 
              Over the years, Lehrer has played in numerous chamber music groups, pit orchestras, jazz combos, big bands and community bands. On his experience with other bands and finding FWACB, he says, "Some of the community bands were pretty good and some were not. I was searching the internet to find a band when I came across the Fort Wayne Area Community Band. I thought I'd give it a try and I'm really happy I did because this organization is outstanding, the music is challenging and the players are talented. My wife, Lynne, calls me a musical snob because I won't play with just anyone." 
              So now, Lehrer drives to Ann Arbor every Monday evening from his home in Perrysburg, Ohio (which is located just south of Toledo), and he heads to the Summit City for rehearsals with FWACB on Tuesday nights. "Music has really been good to me," he says, "and I plan to continue playing until my eyes are so weak I can't read the music, my hearing is so bad that I can't follow the beat and my fingers won't work the keys fast enough to keep up with the band." 
              Lehrer's other love is aviation. He learned to fly on the G.I. Bill, became a flight instructor and helped start the aviation program at Bowling Green State University, where he was assistant professor and chief flight instructor. From there, he went to Embry-Riddle Aeronautical University and then to the University of Nebraska to teach aviation. He was editor of several aviation journals and still holds a valid flight instructor license. Lehrer closed a 52-year career in education (music and aviation) at Purdue University.