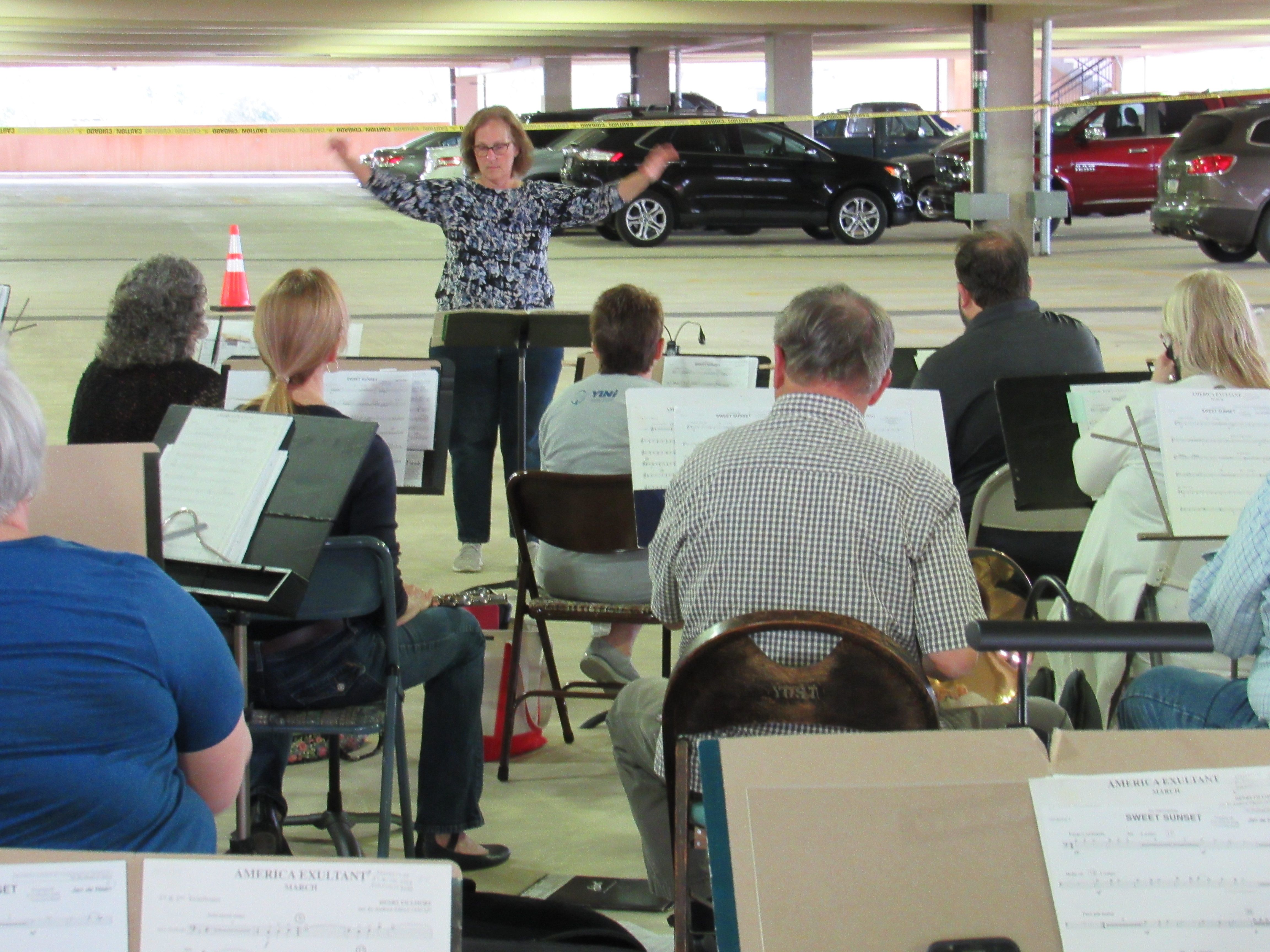 Assistant director Susan Jehl leads the Fort Wayne Area Community Band in playing West Side Story at its first rehearsal since COVID-19 shut it down 14 months ago. The rehearsal was held Tuesday, May 18 on level number three of the Purdue Fort Wayne parking garage #3.
Article by Rod King
              After almost a year-and-a-half without rehearsals or concerts, the Fort Wayne Area Community Band reassembled Tuesday, May 18 to begin preparing for two concerts at Foellinger Theater this summer. Theme for the July 13 concert will be Together Again and the August 10 concert will be Music for a Summer Evening. 
              Rehearsing for the two concerts was completely different from what members were used to. For the past 40 years the band has practiced in the Purdue Fort Wayne (PFW) rehearsal hall and is considered an ensemble in residence. COVID-19 social distancing restrictions enforced by the university only allows for 25 to 30 musicians to be in the room at one time which pretty much excludes the Community Band from using it because it has more than 90 members. 
              The band's first rehearsal since being furloughed was held Tuesday, May 18 on the third level of Parking Garage #3 across from the entrance to the John & Ruth Rhinehart Music Center on the PFW campus where the band performs its winter concert series. Players, who in the past showed up at 7:30 p.m. every Tuesday to a room that was already arranged with chairs and stands, now had to bring their own stand, stand light and chair in addition to their instrument.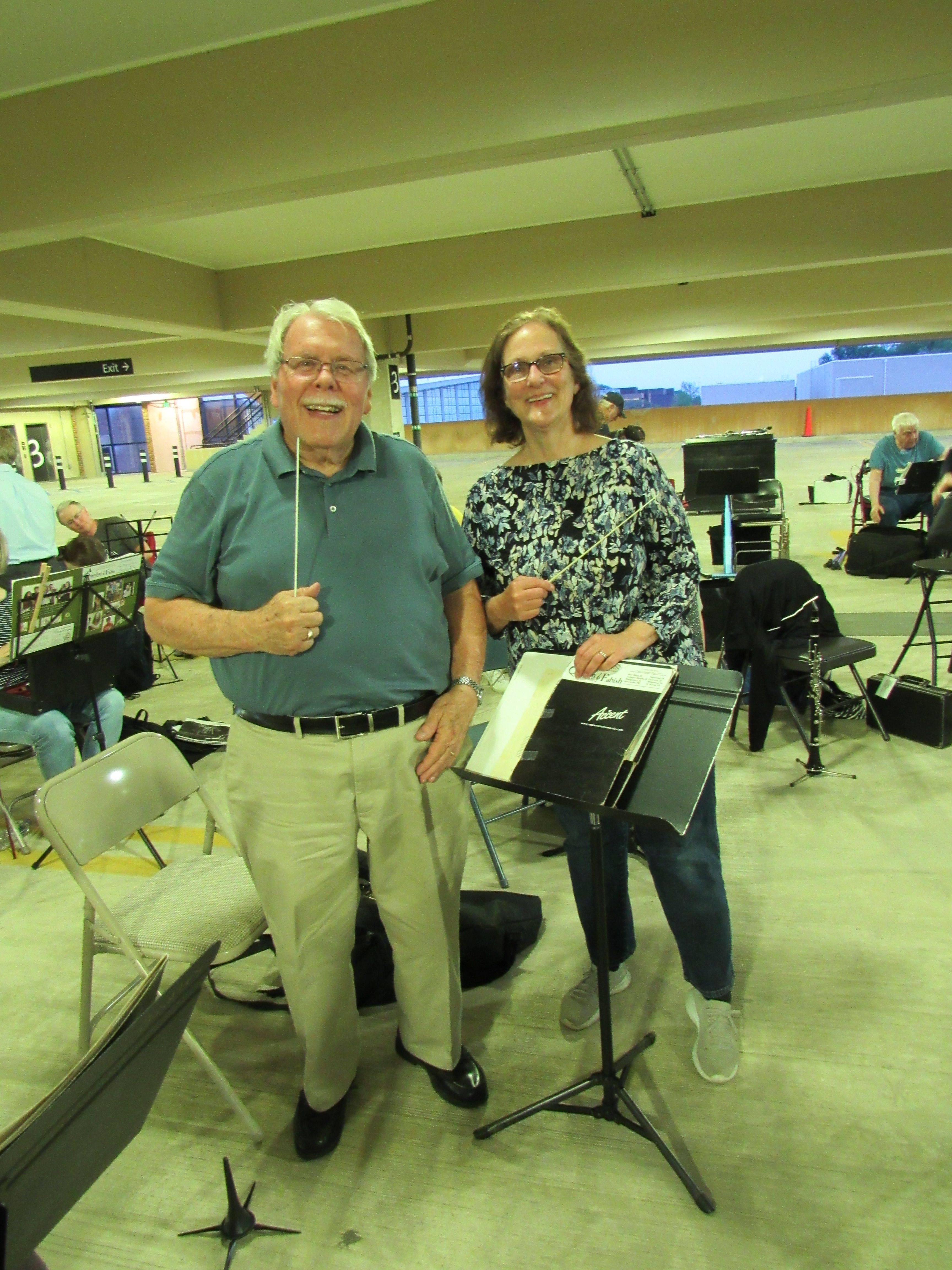 Conductors David Blackwell and Sue Jehl will share directing duties at the Fort Wayne Area Community Band's July 13 concert at Foellinger Theater.
              The rehearsal area in the garage was marked off with yellow crime scene tape and birds occasionally swooped through the garage to add more excitement. Cement floor, ceiling and support posts made the sound bounce wildly, but as conductors Susan Jehl and David Blackwell said "it sounded great and it was wonderful to have so many band members at the rehearsal. We chose some music we have played before and some new, fun pieces. They really sounded good." 
              Band President Sally Hinkle-Teegarden said that "everyone was very excited to get back to making music and were agreeable with the new conditions, though they are not ideal by any stretch of the imagination. Sixty-seven of our 90+ members showed up for the first rehearsal. Some members are still not ready to be part of a crowd, some moved away, some have job conflicts and a few have retired. However we did have seven new musicians come. Masks were required from their parking space to the rehearsal set-up and social distancing was achieved by placing chairs three feet apart and six feet between rows. The parking garage is covered so rain will not be a problem, but wind, lightening and cold weather could cause rehearsal cancellations.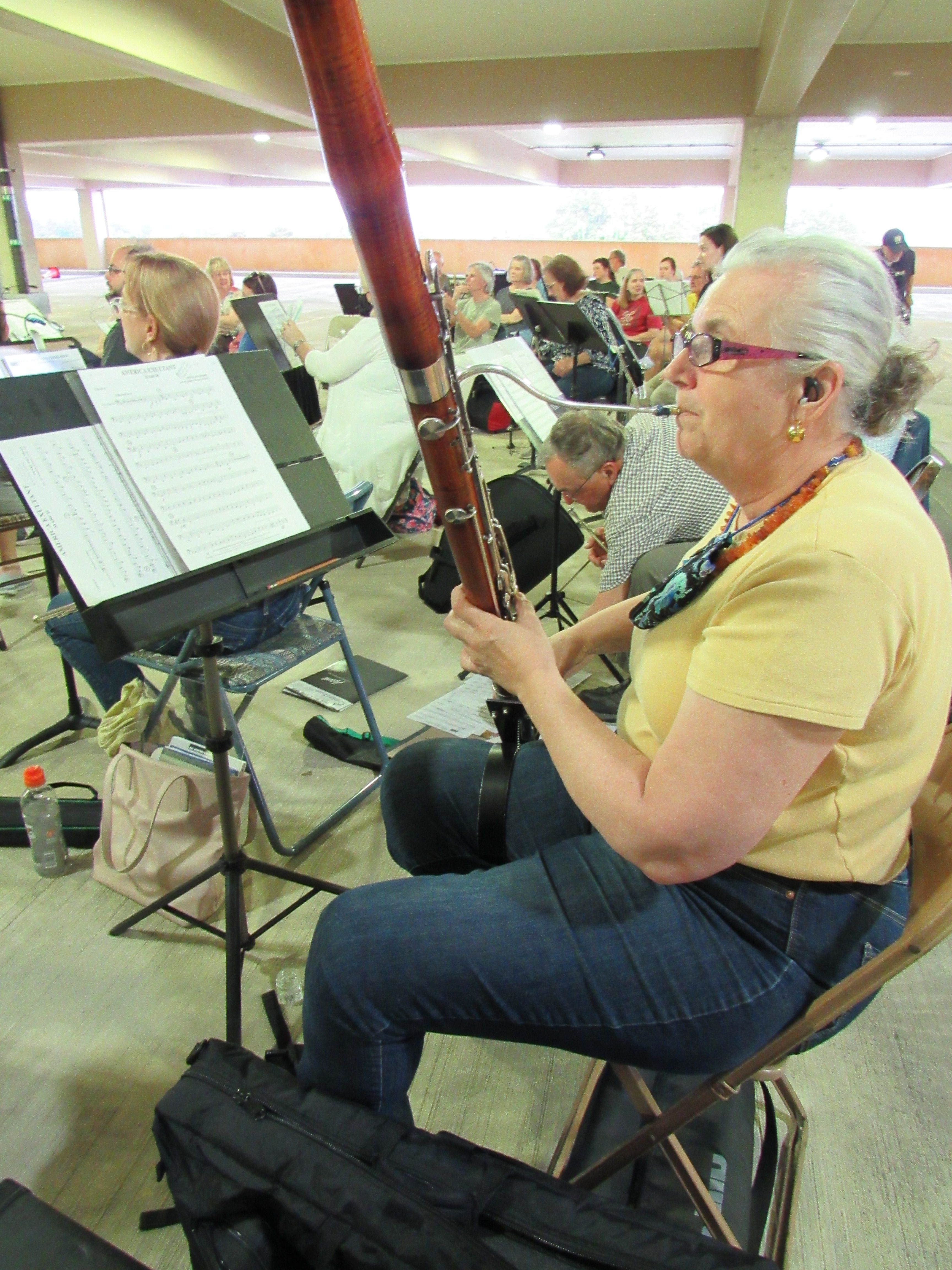 Band president Sally Hinkle-Teegarden said everyone was excited to get back to making music. Sixty-seven of the band's more than 90 members showed up for the first rehearsal in 14 months.
              "It has been a frustrating time to be president of a musical organization that has no place to rehearse and no concerts to perform," says Hinkle-Teegarden. We investigated other rehearsal venues, but with the average age of our group which is around 65, most were not willing to take a chance of being exposed to the virus so we just suspended operation. I was able to play with some small groups during the past year and I know of others who also performed. Some members practiced during that time, but some didn't touch their instrument until the first practice. The board did, however, keep in touch through Zoom meetings and we also communicated with band members via e-mail. During that time our tech person, Isaac Embree, totally revamped our website (FWACB.org) by making it more comprehensive and more user-friendly. 
              Trumpeter and charter member, Vince LaBarbera, said 'It really is great to be back playing again. I had a funny feeling at our last rehearsal way back on March 10, 2020 when our conductors told us we'd have to take some time off due to the COVID-19 virus. I looked around at everyone in the Band and thought to myself, I'm not going to see these people for a very long time." 
              Principal clarinetist Jan Gidley said she "can't believe it's been 14 months since we've been together! We sounded a little rusty at the first rehearsal, but hopefully it won't take too long to get back in shape. I think the garage will be OK for the summer as long as it isn't too hot, but I hope that we can return to the rehearsal room in the fall even if it means instrument covers for everyone. I actually watched some new TV shows on Tuesday night that I had never seen before. It will be interesting for sure!" 
              "I'm so excited to be able to make music again," said flautist Donna Haywood. "I hope this will lead to getting back to normal."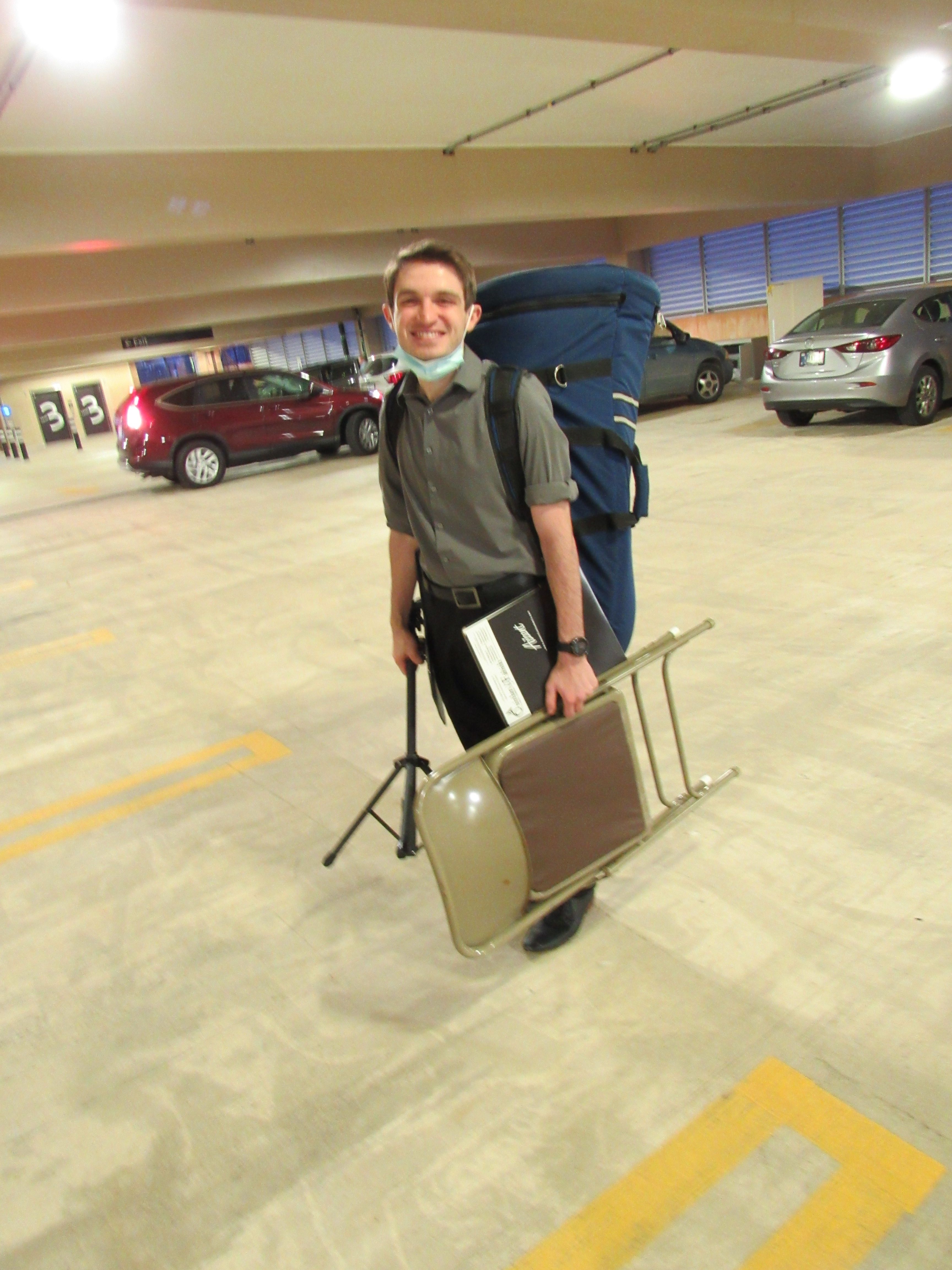 Loaded down with his tuba, music folder, chair and stand is Spencer Mohr who was attending his first rehearsal with the Fort Wayne Area Community Band. Six other new players attended the band's rehearsal in the Purdue Fort Wayne parking garage #3 last Tuesday.