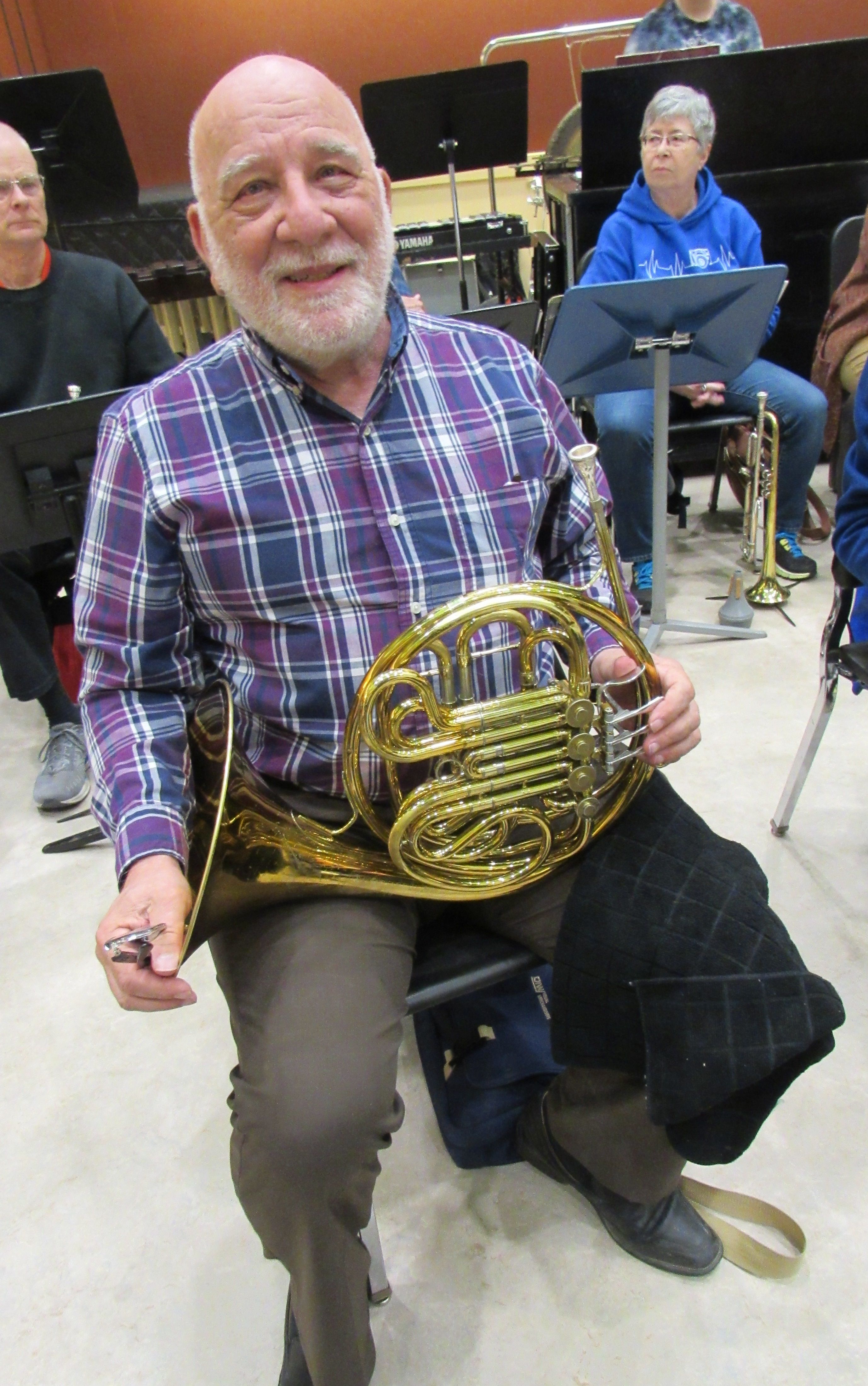 French horn player Don Zellman has played in a lot of ensembles over the years and says FWACB compares favorably with all of them. "I'm glad I found the band when we moved here from Florida."
Article by Rod King
Edited by Isaac Embree
       Don Zellman, who joined the Community Band when it started rehearsing in the parking garage at Purdue Fort Wayne last year, says FWACB compares favorably with all of the musical organizations he has performed with over the past 30 years. 
       The Buffalo, New York native took up the French horn at age ten when he was in the fifth grade. He played in his high school's musical ensembles and at Erie Community College where he studied to become an optician. In addition, he studied music performance at the University of Buffalo. Then the U.S. Army intervened and sent him to Fort Dix, New Jersey. He left his horn at home. 
       After becoming a civilian again, he picked up the horn and auditioned to be in the American Legion Band of the Tonawandas. "They happened to need a French horn player at the time, so I got in and played with them for 10 years. They were really good because more than half of the group were music teachers. Every time we entered American Legion music competitions, we won," he added. 
       He and his wife, Mimi, moved to Charlotte, North Carolina, where they resided for 18 years. While there, he played in the Charlotte Concert Band, the Matthew Town Band, the Charlotte Civic Orchestra and the Bowers Wind Quintet. Their next move was to Boynton Beach, Florida. He and his horn became a fixture in the Gold Coast Band and the Florida Intergenerational Orchestra. "I thought that might be the place I would retire," he said, "but COVID-19 closed down everything, including the clinics where I was working. 
       "So, we decided to come to Fort Wayne to be close to our daughter. And, of course, I got on the Internet and found the Community Band. I'm glad I did! My first concert with the Band was at Foellinger Theatre last August, and I was really impressed with that venue. 
       "I haven't yet reached retirement, but I'm a little closer. I'm working part time at the Veteran's Administration Hospital, so I guess I'm officially semi-retired."